Are you a classroom teacher that is interested in going to the FCTM Annual Conference in Jacksonville, Florida this fall?
Apply for the Tom Denmark Teacher Enhancement Grant for the opportunity to off-set the cost of attending the 66th Annual Conference "Mathematics:  The Art of Noticing, Wondering, & Thinking".
Tom Denmark Teacher Enhancement Grant is awarded each year for up to four full time classroom teachers.  The board will attempt to award one to a teacher from each of the following categories:  Primary (PreK-2) teacher, Intermediate (3-5) teacher, Middle School (6-8) teacher, and High School (9-12) teacher.
Qualifications: 
Any current FCTM member who is a full time classroom teacher currently certified and teaching in the state of Florida.
Teaching Mathematics at the time of the application and anticipate teaching mathematics during the next school year.
Details:
Each recipient of the grant will be reimbursed up to $500.  This will help cover the cost of registration, as well as accommodations and transportation to attend the FCTM Annual Conference.  This money may not be used for FCTM dues, food, or substitute pay.  Additional monetary expenses over the $500 grant that are incurred by the recipient will be at their own expense.
Apply before May 8th by clicking here.
Visit our Grants and Awards page or seek out more information by contacting Jessica.Haynes@polk-fl.net.
---
For more information about this year's annual conference please visit the FCTM Annual Conference page.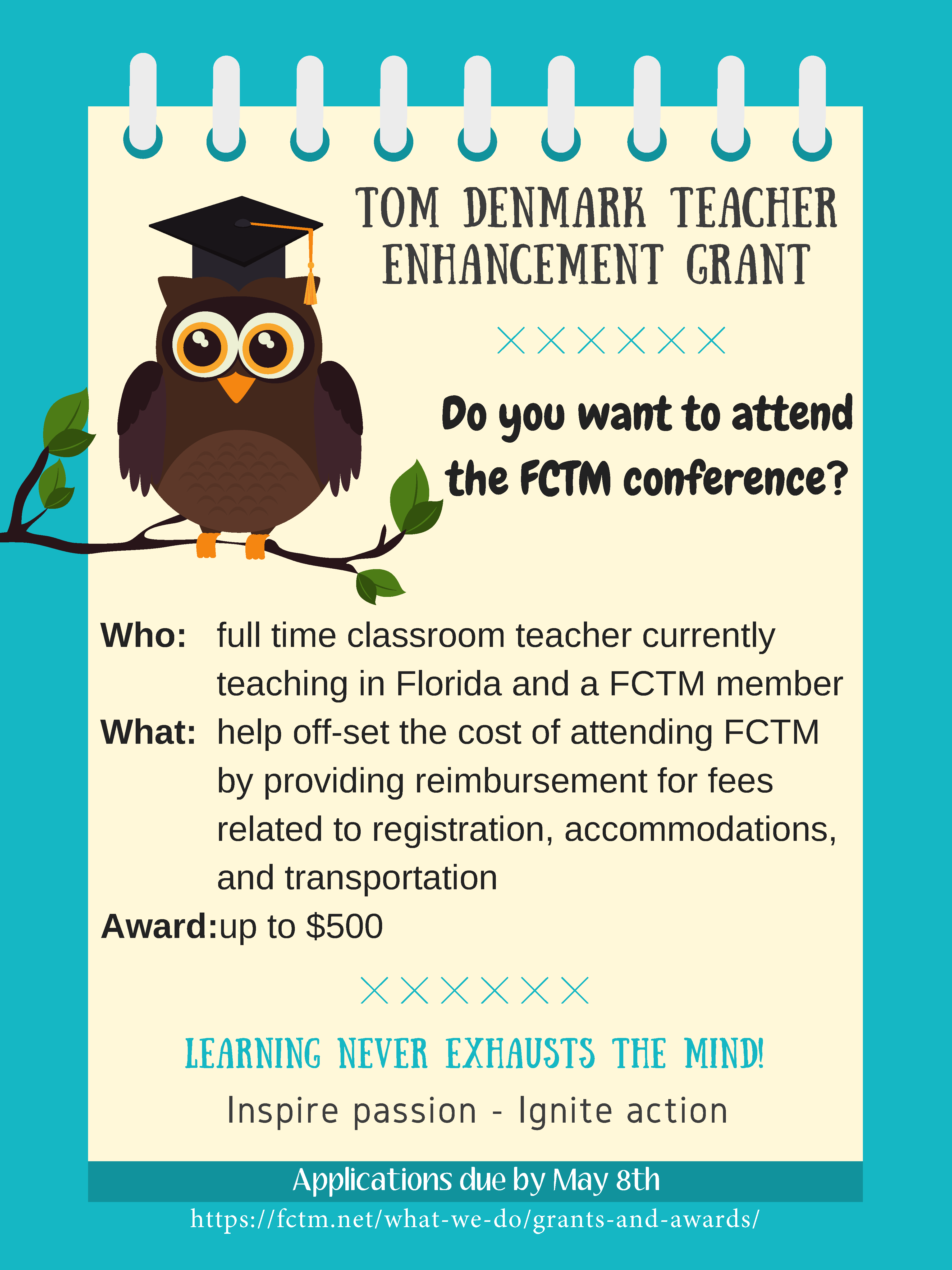 Posted by Elizabeth Pruitt
On April 25, 2019
0 Comments